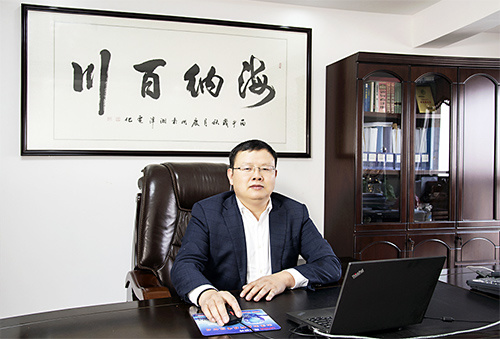 Tan Xinqiao, born in February 1970 in Xiangxiang, Hunan Province, the member of Chinese Communist Party(CCP), deligate of the 13th People's Congress of Hunan province & the 15th People's Congress of Xiangtan City, graduated in June 1995 from Xiangtan University, majored in chemistry degree. For now, the chairman and secretary of CCP committee of Xiangtan Electrochemical Scientific Ltd & Xiangtan Electrochemical Group Co., Ltd.
Brave the winds and the rain, sixty years like a song
As the cradle of China EMD, XTES embodies the dream, passion, sweat and wisdom of several generations during its development of sixty year's historical journey. In 1965, XTES produced the first ton of EMD in China. After decades of development and move ahead, XTES has become the world's largest EMD manufacture, and into the ranks of the National key high-tech enterprises. The Tanzhou brand was regarded as a well-known trademark of China.
New Era, New Business, New Journey. We persist in concept of scientific development, comprehensively implement the strategy of Two Engines ---"Industry of New energy battery material and environmental protection. On the path of development ahead, we keep carrying on our company's spirit of United, enterprising, realistic and innovative and always abide by the corporate values of Integrity, dedication, responsibility. Unity is strength, we are high-spirited in making effort to write new chapter for better development in future!
We've been always thankful and grateful. The development of our company also benefits from the support and love from domestic and from domestic and oversea customers, as well as all the friends from all works of life . With today's achievements and confidence, our steps forward have been become more and more solid, more powerful and determined. Hereby, I'd like to express my sincere gratitude to our customers and friends who always support and keep friendly cooperation with us.
We're looking forward to win-win cooperation. Our goal is to create the most competitive EMD enterprise in the world, become a leader in China's new energy materials and a model enterprise in industry of environmental protection. Not only we participate in the competition, but also commit to the pursuit of cooperation. As we Look to the future, we sincerely hope to join hands and work together with our partners to build a glorious future together through a strategic cooperation. Please believe that XTES is not only a cooperation partner, but also the most reliable friend forever!